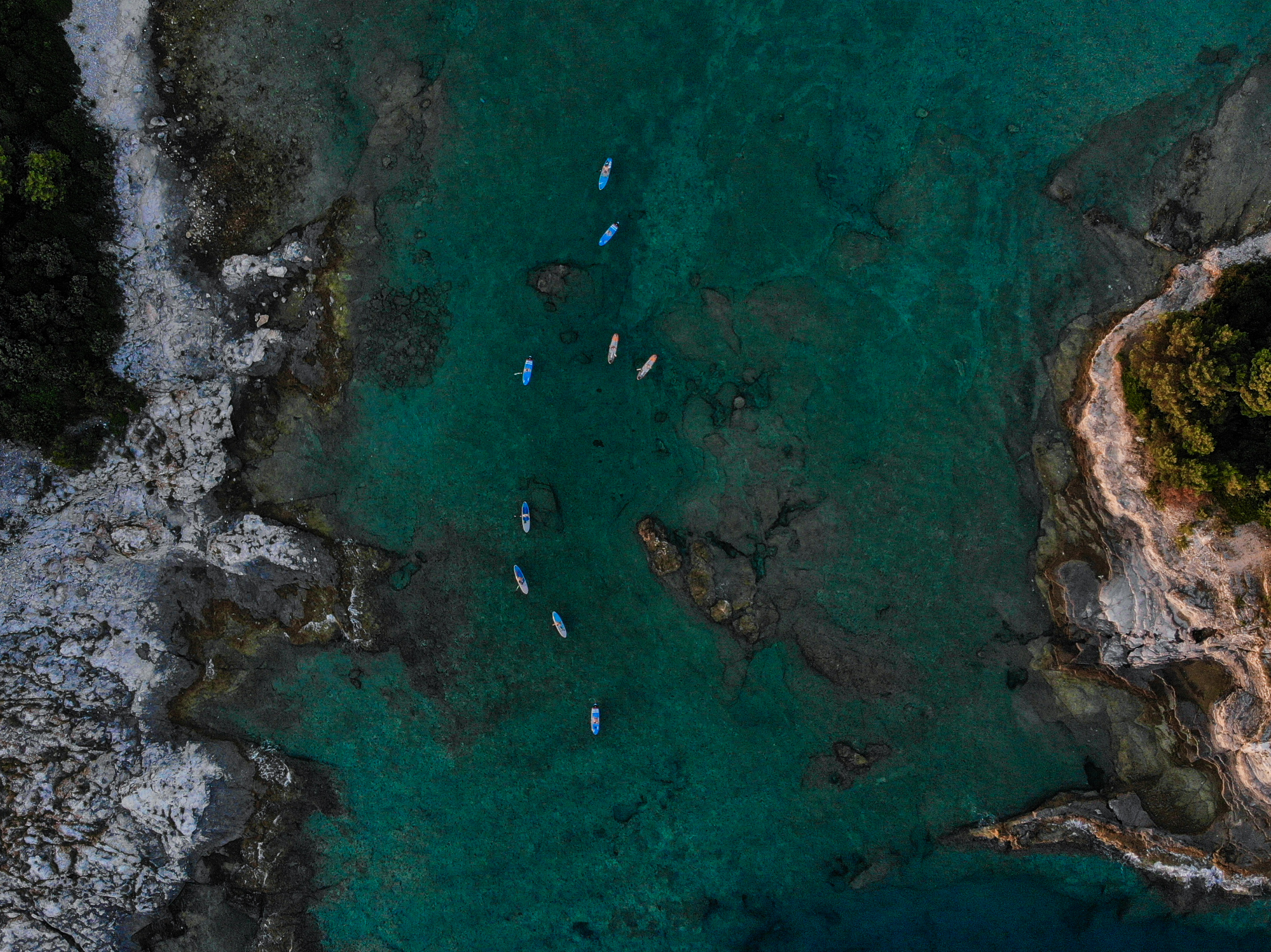 Explore with us some of the many beautiful little islands of Pula's aquatory! It's a 2.5 hours tour, taking us on a cruise around the islands of Fratarski, Froškerić and Frošker. We will also have a refreshing swim break somewhere in between as well as the opportunity to experience the natural beauty of the underwater world while snorkeling.
SUP Islands Cave & Snorkeling tour starts at 2 pm from our Metta float SUP center Pula located on Histria Beach. First we'll go through the theoretical part of SUP basics on land after which we will apply in practice, step by step,  what we have learned as we start the tour on water.
After becoming comfortable on our SUP boards, we head straight to the island called Fratarski. Following the coastline, we will reach the south point of the island from where you will be able to see the other two islands called Frašker and Fraškerić. Crystal clear sea around the islands is rich in marine life with visible seafloor up to 4 meters deep.
We will take a break at a snorkeling spot located between two islands. There you will see many different types of fish, sea urchins, sea cucumbers and corals that can be found from 1 to even 10 m of depth. If you don't like snorkeling and prefer a bigger adventure, cliff jumping is a perfect option for you. Climb the 8 to 12 meters above sea level cliffs with our tour guide and dive into pure adrenaline adventure. All of our adventures  will be recorded on GoPro by our tour guide so that you can have some of the best memories of your lifetime saved.
Around 4:30 pm we will return to our Metta Float SUP center.
SUP Island Tour includes
•    SUP board and paddle
•    Local experienced SUP guide
•    Snorkeling equipment
•    15 min instruction about paddling basics by certified trainer
•    Security leash (life vest optional)
•    Tour GoPro photos and video
•    Life vest optional
•    Dry bags for personal belongings
Tips for your SUP Island tour
•    Bring a towel, a bottle of water and water shoes
www.mettafloat.com